Details Route n. 6
Path in short: Port of Fratta - Contrada dei Magazzini - Piazza Domus Plebis - Contrada of the College - Contrada Santa Croce - Porta della Fratta

Total length: 600 meters
Maximum gradient ascent: 15%
Maximum slope downhill: -21%

Points of Interest:
church of San Pietro
Pubblic Palace
Statue of Liberty

Your opinion is important!
Details Extension Route 6
Path in short: Port of Fratta - Climb to Rocca - Porta della Fratta

Total length: 700 meters
Maximum gradient ascent: 21%
Maximum slope downhill: -21%

Points of Interest: Porta della Fratta, 1st Torre.Dettagli Extension Route 6

Past the stone gateway, in front of you is a public fountain with an image of San Marino, patron saint of the Republic. The fountain is 134 cm high, with two steps of 20 and 10 cm.
Going uphill along the main street (Via Salita alla Rocca) full of shops and restaurants, after 125 metres with a 10% slope, on the right, you will find an accessible toilet for a fee, indicated by suitable signs.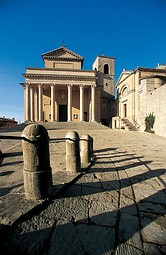 Turn left to take Contrada dei Magazzeni, 175 metres long with a gradient ranging from -4% to -14%, and reach Domus Plebis square, where you can see the imposing Basilica of Saint Marinus and the small church dedicated to Saint Peter
On the right of the Basilica is the small church dedicated to Saint Peter. This building too is inextricably linked to the history of the State.

Connection with Route n.1
Leaving the square, go down to the left along Contrada del Collegio for 80 meters and a slope from -17 to -21%.
Alongside the road you will find Mercuri House seat of the Secretariat of State for Industry, Crafts and Commerce and of the Secretariat of State for Labour, Cooperation and Information. Not open to visitors.

Connection with Route n.2 and Route n.5
Going down for another 50 metres, turn left into Contrada Santa Croce. On the corner there is an ATM (height 118 cm.).
Continue along this street for 190 metres with a gradient ranging from 5% to 15% to go back to Fratta Gate, starting point of the ROUTE.
EXTENSION TO ROUTE No. 6
The extension of Route No. 6 starts from Porta della Fratta.

Continuing the tour, you will face the most difficult part of it but you can admire wonderful scenery and the majesty of the First Tower, Guaita.
At the end of a long climb, 115 meters long with a slope of 15 to 21%, on the left is the roof terrace with views of over 200 km of the Adriatic coast.
On the terrace, called Ground of Mortars, there are two cannons, a gift of the Swiss Confederation, with which the Fortress Guard shoots blanks during the holidays.
After a few metres you will find the entrance to the First Tower (not accessible).
After visiting this wonderful place of the history of San Marino, it is possible to conclude the tour and return to the starting point following Salita alla Rocca to return to Fratta Gate and to the parking lots.