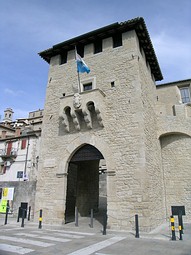 The Route starts from Saint Francis's Gate or Country Gate but instead of crossing the gateway to enter the walled city leave it behind you and continue to the left.
After a few metres you will find the old office of authorized guides and a fountain with drinkable water.
Further along the way, cross the street on the pedestrian crossing to continue the path along the tree-lined sidewalk running along Viale Federico d'Urbino. At the beginning of the street on the left you can see a shrine dedicated to St. Francis.
At the end of the street, after 380 metres of flat road with smooth pavement, you can see the bronze sculpture "Horse rampant", designed in 1985 by the artist Aligi Sassu, which is part of the Open Air Museum and placed inside the roundabout.
Behind the roundabout is P2 Piazzale della Stazione or P2 Bus, where is an accessible toilet for a fee with a 3 cm high step. In the parking lot there are two parking spaces for the disabled.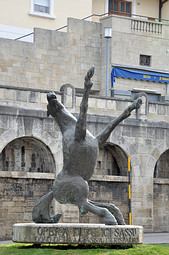 Crossing the whole parking lot being about 190 metres long you will reach the Montale Tunnel where you can admire the impressive railcar of the train which until 1944 used to link Rimini to San Marino.

To go back to the beginning of the Rpute, the parking lots or other Routes take Viale Federico d'Urbino